Vintage suitcase style record players are making a comeback.
Originally popular in the 1950s and 1960s, they fell out of fashion, in large part due to their limitations.
They were very basic and only did one thing: play records. Their speakers were weak and other components were cheap as well, but they were ultra-portable. People loved being able to listen to their vinyl collection anywhere.
The Victrola Vintage Bluetooth Suitcase Record Player brings back the tradition of those old portable players. On the outside it looks exactly the same.
On the inside, it has been upgraded and modernized. It features extras those old players never had. Extras that did not even exist back then.
Sound quality has been upgraded as well, but naturally, it still lags behind a larger record player.
Let's take a closer look and see what Victrola got right with this player and where they didn't quite hit the mark.
Victrola VSC-550BT Review: Overview And Features
If you're familiar with the history of record players, then you already know that it all began in 1906, when Victrola really made a name for themselves in the audio world, thanks to their high-quality audio equipment that was truly one of a kind at the time.
The legend continues as Victrola keeps coming out with the best entry-level turntables on the market. This particular model is a reproduction of the once popular suitcase record players that were a hit sixty to seventy years ago.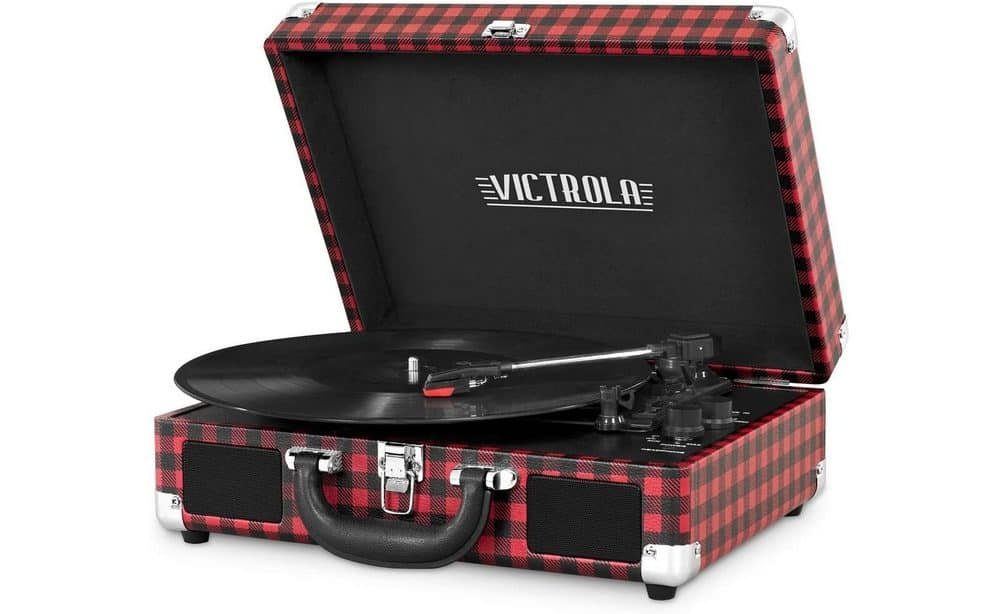 The whole turntable sits neatly inside a compact, durable suitcase, complete with snaps and a carry handle. This model fits neatly into a compact suitcase that's ideal for air travel, cross country trips, and much more.
The case itself is surprisingly durable, so you won't have to worry about damage during transport. However, if you plan on taking this turntable with you when you fly, I do recommend taking in on board as a carry-on. While the case is durable, it's not a hard case design, so it can be damaged if it gets knocked around.
Design
If you're looking for a model you can take with you when you travel aboard, go on a road trip, or a portable model you can take with you to a friend's house, then the suitcase turntable is what you've been searching for.
These models may not be the most durable or come equipped with many fancy extras, but in terms of portability and functionality, they're the best option available.
This specific model offers some great customization options, a compact design, and the type of sturdy build that tells me this is one turntable that can handle traveling and road trips like a champ.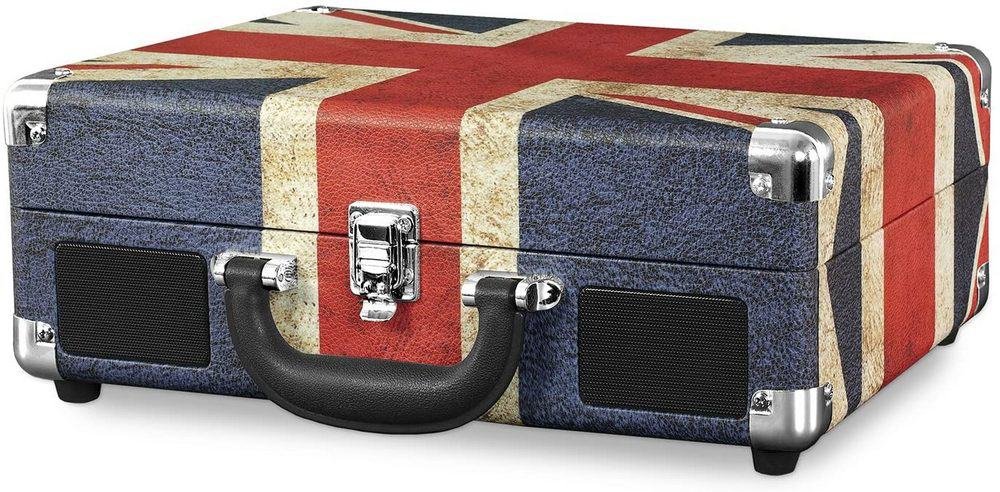 Inside the suitcase, the turntable takes up the majority of the available space. The controls are very intuitive. You can use a dial to control the volume, one to control the power and one to choose the input source.
While none of the controls have any flash to them, they're finished in a deep matte black, which works to draw the eye to the colorful exterior of the suitcase. And you can make that as colorful as you like, with a full 33 (and counting) different color schemes to choose from, including:
Pink
Pink camo
Aqua turquoise
American flag
Cobalt blue
Brown
Camo
Cognac
Geo print
Gray
Marsala
Multicolor
Purple glitter
Red
Red and black
Retro map
Turquoise
UK flag
You'll quickly realize that most models in this price range are extremely limited in terms of what colors or finishes you can choose from. In fact, most manufacturers will only offer one or two options.
The fact that Victrola offers 33 is pretty impressive and it gives it that customizable feel that everyone loves. Many of the colors and patterns available are very eye-catching and feature bold tones and vivid colors.
Unfortunately, I noticed right away that this model's design and components do reflect the lower price. The platter is made out of a thin plastic and comes without any type of soft material that would normally be incorporated in order to protect your vinyl records and reduce vibration.
The tonearm is somewhat flimsy and thin, and made out of metal. This can lead to your victrola suitcase record player skipping.
Fortunately, many of the components are upgradable.
Bluetooth Connectivity
This model also comes equipped with Bluetooth connectivity, which adds some much-needed versatility when it comes to playback, meaning you can use this turntable to stream from any device that's Bluetooth enabled.
This includes tablets and any type of smartphone, and you can do so for up to thirty-three feet away. Thirty-three feet is about the average range for most Bluetooth enabled devices, so I was surprised to learn that in reality, the range is almost twice what's listed on the spec sheet.
Shock Absorption
In terms of shock absorption, the design could've been much better. The manufacturer failed to include some type of mat on the platter to minimize vibrations.
However, despite the lack of any type of shock absorption material, this model scored average in terms of skipping and vibration.
Nevertheless, a lack of shock absorption material can cause the tonearm to jump during use, which can lead to skipping. Since this platter is seriously lacking in this department, you may want to consider purchasing a shock absorber mat.
In most cases, even models that do come with their own shock absorber mat could use a serious upgrade. Often, these mats are only added as an afterthought. But the use of a good one can instantly improve sound clarity while also minimizing skipping and distortion. This is definitely one upgrade you'll want to consider.
Inputs
The inputs also provide more playback options. The basic 3.5 millimeter aux input allows you to connect to a variety of external devices for more listening options. You can use this connection to hook up external devices including MP3 players, CD players, and active speakers.
If everyone is asleep but you still want to blast your newest vinyl, take advantage of the built-in headphone jack.
Speakers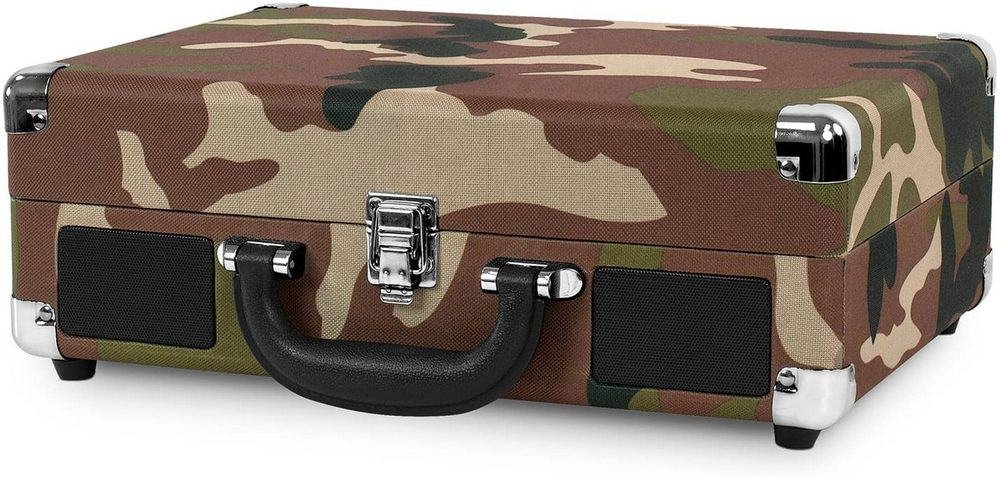 Suitcase turntables are notoriously quiet. In fact, their lack of volume is the most common complaint and you'll find this complaint with every single model on the market.
But if you're interested in this type of device because of its portability, then you'll have to either accept the volume limitation or prepare to come up with a solution.
It's true, the dual speaker setup is quiet compared to a traditional pair of external speakers, but the volume is loud enough for bedroom use.
If you need more sound, you can use the RCA jacks and hook up a pair of active speakers, like some quality floor speakers for vinyl. Another option is to use wireless Bluetooth speakers.
Speed Options
With three speed options (33, 45, 78 RPM) you can play any size and type of record. Of course, 78s are a rare type of record you won't come across very often these days.
Victrola actually goes one step beyond just offering three speed settings. This model automatically detects the type of record you're playing and adjusts the platter's speed on its own. You won't find many other turntables that offer this feature, which is a great one to have if you're new to turntable use.
Cue Lever
While many of the features are commonly found on other lower-priced models, this player also comes with some nice extras like a cue lever. The cue lever works by helping you precisely and safely cue your vinyl without scratching the surface of the record or causing damage to the stylus.

Performance
Are Victrola suitcase record players good? They are better than most other suitcase players. Considering this is a lower-priced model, the included Bluetooth connectivity streaming works impressively well. You won't have to worry about lag, distortion or any other issues as you stream your favorite tunes.
I also noticed that streaming range is way more than just the thirty-three feet that the manufacturer claims. This means you can stream from anywhere you want in your home (assuming you don't live in a mansion).
The audio quality is also better than expected, especially when you consider the price. However, if you're looking for a system that can provide a heavier bass response, then you'll either need to hook up some external speakers or look elsewhere.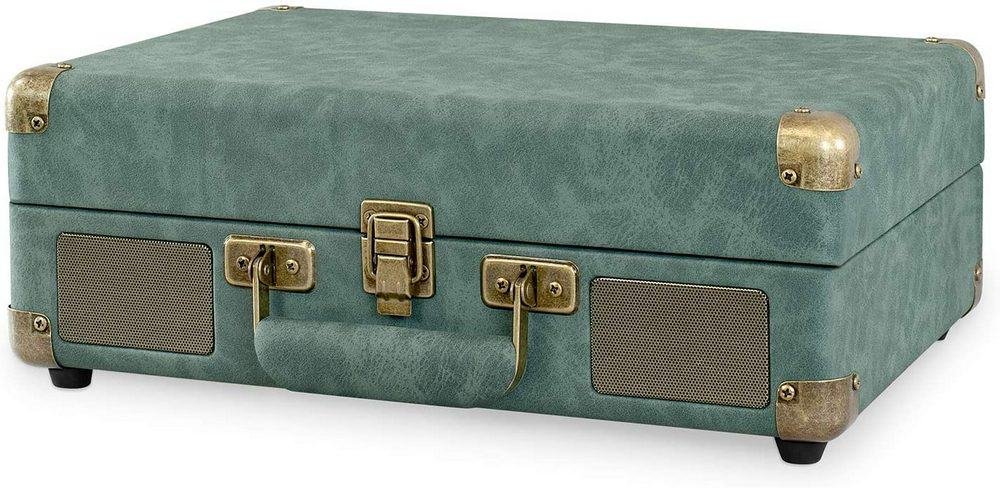 Aside from its good looks and color options, this model still manages to easily outperform many higher-priced suitcase turntables. The customization options are one of its biggest selling points, next to the portable design.
One issue we've heard about more than once is the wall wart slipping out just enough to come unplugged. It is heavy, so this can happen easily and often leaves owners wondering "Why is my victrola record player not turning on?"
Comparison To The Competition
The truth is that most suitcase players in this price range are very similar. If you are deciding between suitcase players, go with the one that looks the nicest to you, in terms of design. As long as it has the features you are looking for.
Both this model and the Crosley Cruiser have tons of color options and are our two favorites. If you're on a bit more of a budget, check out our Digitnow suitcase turntable review.
If you are looking at all options in the budget range, the Jensen 3-Speed Turntable Music System gives you a completely different way to listen to your vinyl.
This system is nowhere near as portable as a suitcase turntable, but it offers far more connection options. It also comes with a remote control, two small external speakers, a back-lit display, front loading CD player, and is compatible with MP3 players and iPads.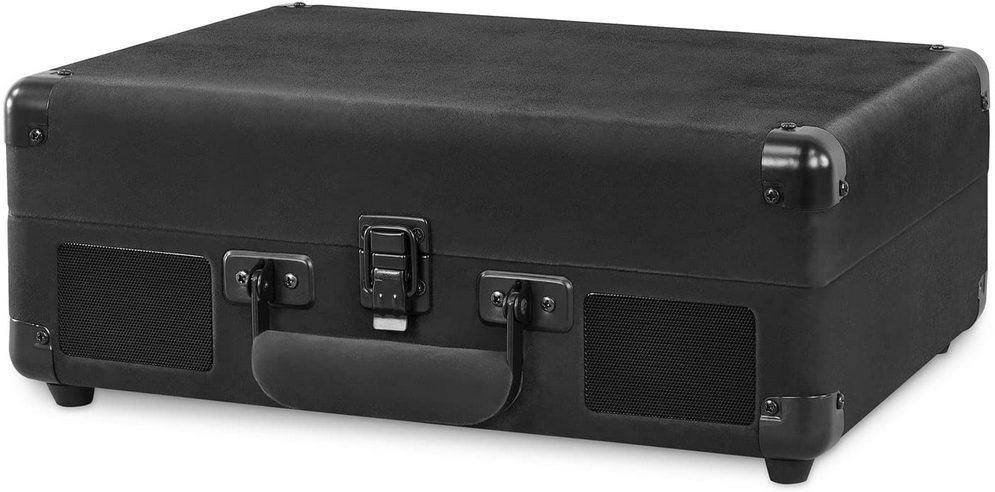 It also offers a heavier bass sound thanks to the bass boost feature. Th Jensen turntable is designed for a permanent setup, so it doesn't offer the type of portability that this Victrola model does. But if you're looking for a higher volume, a deeper bass, and basically more bells and whistles, all at a similarly low price, then the Jensen may just fit the bill.
Victrola Suitcase Turntable Review:

Conclusion And Rating
The Victrola Vintage 3-Speed Bluetooth Suitcase Turntable With Speakers may not be the top record player with speakers, but it's great for the audiophile on a budget and in search of the best possible listening experience at an affordable price.
The portable design combined with the Bluetooth connectivity will allow you to get plenty of use out of your new turntable, at a price that won't break the bank. I gave this model a Top Record Players rating of 4.5 out of 5.