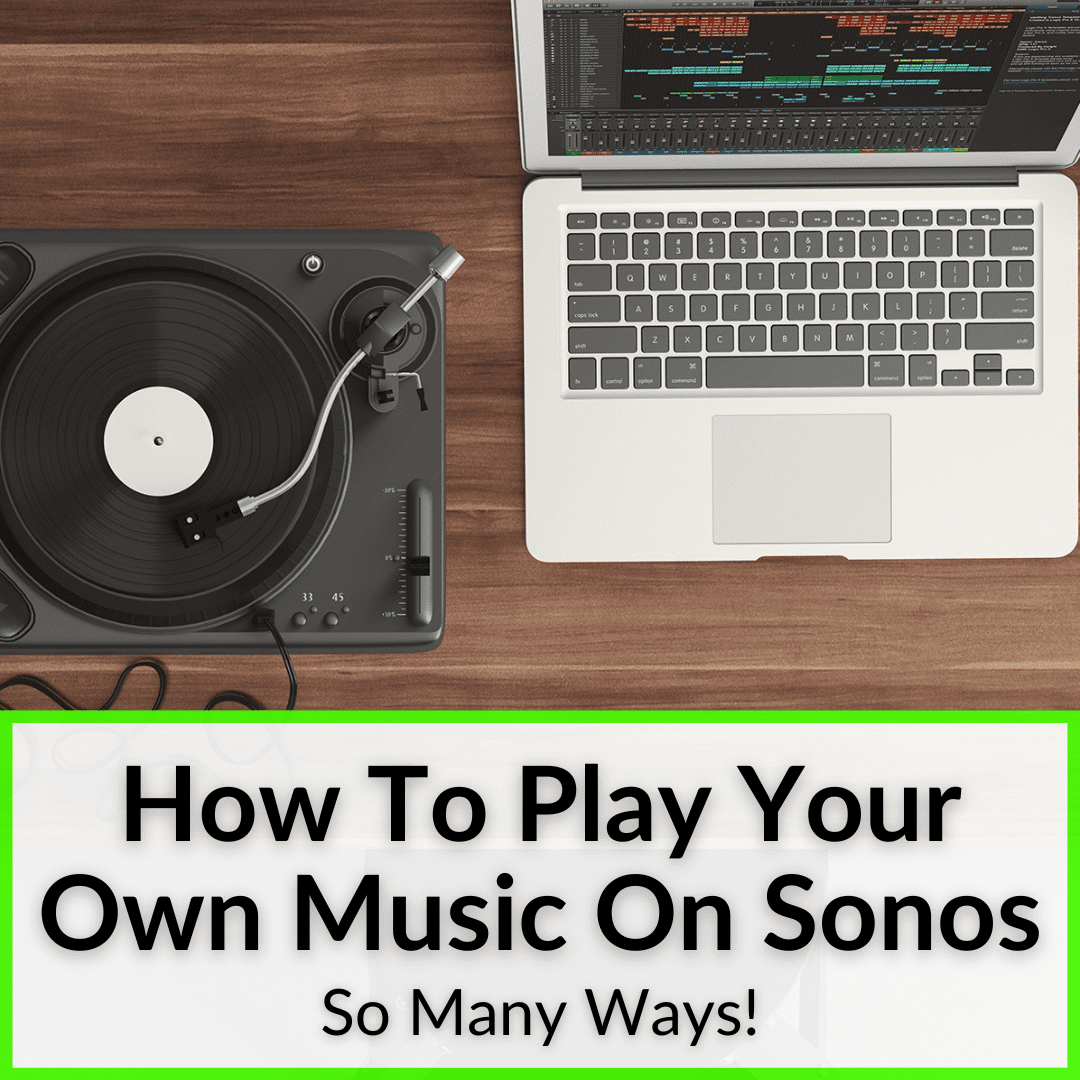 You can play just about anything on Sonos.
You can connect it to SoundCloud to play your playlists from there.
You can play Youtube music on Sonos from Android or IOS.
You can play the sound from your TV, or connect to Apple TV or similar services.
But how do you play your own music on Sonos?
It's easy, too!
We already explained how to connect your turntable to the Sonos system and play your favorite records.
Keep reading to learn how to play your own music on Sonos from other sources, like your PC or Mac computer.
How To Play Your Own Music On Sonos
Sonos has great speakers that offer amazing sound quality. It's the best sound quality I have heard at home, at least.
But apart from that, the system can connect with various platforms and devices, which makes it quite easy to play any music you want throughout the entire house. Here is how to do it.
Playing Your Music Collection On Sonos
Once you have made the initial configuration through Sonos, and you already have the application installed on your mobile phone or tablet, it is time to play your favorite music through this Hi-Fi system.
Sonos comes preconfigured with more than 100,000 different radio channels through TuneIn, where you can listen to music, interviews, podcasts, and programs from around the world.
But you also have the possibility of playing our own music library from mobile devices, computers, a NAS, your record player, turntable, or whatever other source of music you have.
To play music from your computer, it is sometimes necessary to download the Sonos Desktop Controller application on your computer to make it compatible.
And speaking of compatibility, Sonos is fully compatible with iTunes. You can play everything that you have in your iTunes library easily on your Sonos speakers.
Virtual Music Providers
But that is not all. The Sonos system can also play music from virtual music providers, such as Spotify, SoundCloud, YouTube, Napster, Amazon Music, Deezer, Mixcloud, Google Play Music, and many more, depending on the country in which you have configured your Sonos system.
You can have a Sonos device in each of the rooms of your house and coexist peacefully with the other members of your family, despite having completely different tastes in music.
You could play your music in all of the rooms at the same time and force everyone else to enjoy your favorite tunes, or you could have different songs playing in each room and maintain the peace.
Adding New Sonos Devices
In order to have more than one Sonos device, you will have to add any new device to your application in a very simple and intuitive way. You can have up to 32 Sonos devices linked together in your installation. That is more than enough for any type of house.
The first thing you have to do is place your new Sonos device in its location and plug it is, so that you can turn it on.
Once you turn it on, the device will take a few seconds to do its initial startup, and then its LED will flash green.
Now you need to open the Sonos application from your mobile device, access the "Settings" menu, and select "Add a player or SUB" in the case of a standard connection, or "Add a Boost or Bridge" for the Boost connection.
Simply follow the steps until your new Sonos device is completely added to your system, where it will appear along with the ones you already have installed.
If you add the new Sonos product from a computer, instead of from the mobile application, you have to look for the "Manage" option found in the toolbar at the top left of the application.
Using Fibaro To Play Your Own Music
With the Fibaro HC2 update to version 4.0, which has added so many new features, Sonos speakers have become fully compatible with this system.
You only have to add the plugin, install it, and select the IP of your Sonos system. Now you will be able to control it from the Fibaro application for your mobile devices, or through the web interface.
Using Eedomus To Play Your Own Music
With eedomus, you can also configure the Sonos speakers, even to play the audio messages of the eedomus plus.
You simply have to do the configurations through your control center to integrate it as a multimedia audio device and then you can control it from eedomus in a simple way (through a UPnP actuator).
Play Your Own Music On Sonos: Final Thoughts
Playing your own music on Sonos is easy. You can play music from your record player, from your PC or Mac computer, or from a multitude of other sources.
The setup for each source is never complicated, but they do all differ. You can usually figure it out on your own pretty quickly, since it is always very intuitive.
But if you are struggling, hopefully this article helped somewhat. You can also rely on Sonos' many articles in their support center. They seem to have one for just about anything you might want to do.