Let's clear one thing up right away.
Not all turntables are expensive.
There are plenty of record players that sell for under $100. Naturally, those are not very good.
You can get some great record players for a few hundred dollars.
These are perfectly fine for most people.
If you want to get the best possible sound from your vinyl collection, you'll need to spend a few thousand.
The price can vary greatly, but the key here is this: overall, a turntable of a certain quality level costs more than a CD player or other device of a similar quality level.
Why is that? Let's find out.
Why Are Turntables So Expensive?
As mentioned, there are different levels of quality and different price ranges, but overall turntables are on average more expensive than other devices that do a similar job.
Why do turntables seem so expensive compared to other audio players?
The short answer is that they are mechanical analog devices with more moving parts that need to be produced to exacting specifications. This goes for vintage turntables as well as modern ones.
This is only the tip of the iceberg; the real answer is much longer and more involved (and interesting)!
Expensive Is A Relative Term
This may seem obvious, but to say something is expensive is to assume you know what somebody else considers expensive.
To the average person that collects vinyl records, spending 300 bucks on a record player is about the same as an average teenager buying a cheap portable MP3 player for 65 bucks.
To the teenager, 65 bucks is not that big of a deal. To the record collector, 300 is about what they spent on their last rare album purchase. Because vinyl records are more expensive than the players, in terms of what you get for your money.
In this regard, you could argue that turntables are not actually expensive at all and the person asking the question is probably not a hardcore record collector.
How much are record players on average? That really depends on the price range you are considering. Budget turntables can go as low as $50 (these are obviously not great), while high end players can cost many thousands.
Of course, there are also record players that are just subjectively expensive. Check out out comparison of the Rega RP6 vs VPI Scout for a good example.
Vinyl Collectors Have Money Which Drives The Cost Up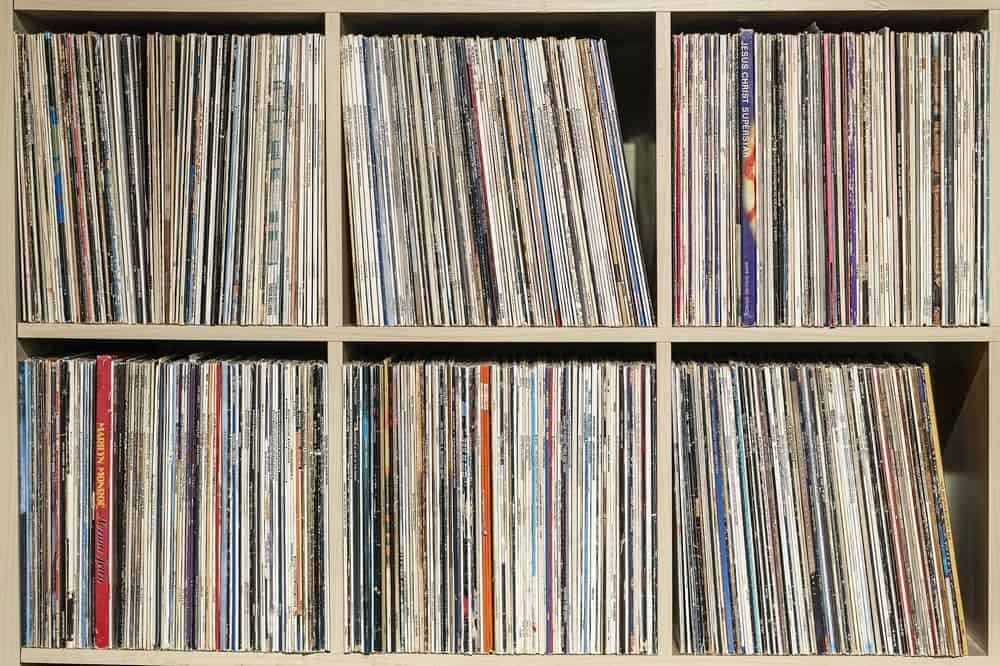 The largest group of record collectors are between the ages of 45 and 54 according to Statista.com. This group of people are mostly men and they are not broke college kids.
They have cash to spend. And the way capitalism works is that a product will cost as much as the market will bear. In other words, if the market has the money, this price increases.
If the only people that bought turntables were broke teenagers, they would be significantly cheaper. Just like in any other market, supply and demand is in full effect.
You see this in other audio equipment markets like CD players too. There are some CD players that you can get for under 100 bucks and some that people pay over a thousand for.
As long as there are people with money who believe records sound superior to digital formats, there will always be turntables that cost several thousand dollars!
Turntables Use Intricate Analog Parts Made To Exact Specifications
We touched on this above, but turntables are an older analog technology. Instead of circuit boards, they contain moving parts which cost more to produce.
Cartridges & Needle (Stylus)
The cartridges that come with turntables can cost hundreds of dollars alone. What are record player cartridges?
These are the parts that hold the needle and translate the vibration of the needle to an audio signal that the turntable outputs to the preamp, amp and speakers.
These are produced in factories like many other parts, but they require more skilled supervision which costs more money. The stylus comes attached as part of the cart and it can cost over a hundred bucks by itself, depending on the brand and type.
Built-In Preamp
Not all turntables have a built-in preamp but many of them do. The built-in preamplifier can be an expensive part of the assembly which drives the price up.
There are cheap preamps out there of course, but the more you pay for a deck with a built-in preamp the better the preamp is likely to be.
The job of the preamplifier is to take the input signal which is incredibly quiet and make it loud enough to send out the RCA jacks to the actual amplifier.
Any time you are making an audio signal louder or quieter or modifying it in any way, great attention must be paid to the transformers used.
These transformers are a major part of the preamp cost. Cheap transformers will have a detrimental effect on your audio signal and great ones will make the signal sound much better to the ears.
Motor
The motor is one of the most important components, second only to the cartridge. Motors for record players are different than many other DC motors used in small components.
The motors used in turntables are meticulously tested for speed accuracy and consistency. The motor determines how fast or slow the platter turns, which affects the sound of the record.
A good motor is important in a record player, and the more you spend on your player the better the chances it has a killer motor in it.
Comparing the Cost Of Turntables To Other Media Players
Let's take a look at why other types of media players are generally a bit cheaper than record players.
CD players
CD players used to be extremely popular, but now they are more of a niche choice. However, they are picking up steam again.
CDs themselves are becoming trendy for kids to collect as a reaction to the digital download and streaming economy. Butt his is a topic for another time. I could spend hours on this alone!
What Makes CD Players Cheaper?
Compared to record players, CD players are ridiculously cheap to make. They consist of mostly plastic parts, a few rubber belts, and a laser eye along with some circuit boards.
They are mostly digital with only a few moving mechanical components. The spinning of the disc and the opening of the tray are mechanical. The rest is digital.
The more mechanical something is, the more expensive it becomes to manufacture. The motors inside CD players do not need to be exactly accurate or consistent, because the disc only contains digital information and is not affected by minor changes in speed. In other words, CD player motors are cheap.
The components are cheap and the labor is the same. CD players are easy to mass produce with low skilled labor.
Hard Drive Audio Players / Portable MP3 Players
These are the cheapest way to listen to music these days. Because almost everyone owns a computer, there is no additional cost involved in listening to MP3s on your PC. This makes it the cheapest way to listen to music.
There are also dedicated devices that are created specifically to play audio files. These can be expensive, but they do not need to be.
Apple made a lot of these in the past and charged a lot for them, as Apple does. But there are many brands making portable MP3 players these days and most of them charge very little.
What Makes HD And MP3 Players Cheaper?
HD audio players and portable MP3 players have almost no moving parts and are almost entirely circuit boards. These parts are dirt cheap to manufacture!
Therefore, you can find a portable MP3 player for 30 bucks brand new and the manufacturer is still making a good amount of money on the sale!
It is ridiculously cheap to make these devices compared to turntables which are analog mechanical players with calibrated parts that are nearly hand made.
Why Record Players Are Expensive: Final Thoughts
So now you know why turntables are so expensive. They use mechanical parts that cost more to make, because they cannot be as easily mass produced and the specifications need to be exact. The motor and the cartridge alone and cost over a thousand dollars on a top quality record player.
That's why you need to take good care of your record player. Keep it on a quality turntable stand and perform regular cleaning and maintenance. You paid a lot for it, so make sure you protect your investment.
The same goes for the actual records. Vinyl record cost a lot to make, too. And much more than that to buy, since record companies charge a huge premium o them.
And if you just can't afford a turntable right now, perhaps you could try making your own. We have an article on how to make a record player that takes you through the steps to DIY.